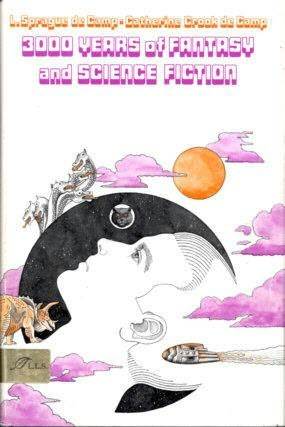 A collection I found entertaining is
3000 Years of Fantasy and Science Fiction
edited by L. Sprague de Camp and his wife Catherine Crook de Camp. It has a foreword by Isaac Asimov and is composed of stories that show the progress that the science fiction and fantasy genres have made through out the millennia. It contains excerpts from Plato's "Timaios" and Homer's "The Odyssey" which are absolute classics I recommend everyone read them in full. I also enjoyed the stories "A Journey To The Moon" by Cyrano de Bergerac and "The Cats of Ulthar" by H.P. Lovecraft. My favorites from this anthology are as follows:
H.G. Wells' "The New Accelerator" is about a scientist who invents a drug that basically gives the user super speed. What I like about this story is it seems like a fairly realistic depiction of what would happen to someone had they gained this power. Long before any Flash comics had brought up the idea.
"Before Eden" by Arthur C. Clarke is about astronauts on Venus who discover a form of alien intelligence that they are unable to communicate with. It also has a message about the effects that pollution and human carelessness pose on life.
Asimov's "The Last Question" is about two scientists who on a drunk bet basically ask a super intelligent computer how to prevent entropy. Of course the AI answers them "Insufficient Data For Meaningful Answer". Over millennia human beings evolve as does the AI and again and again the AI is asked the same question with the same results. I can't really answer the question without spoilers but it's a very satisfying ending.
"It is wrong to assume that art needs the spectator in order to be. The film runs on without any eyes. The spectator cannot exist without it. It ensures his existence." -- James Douglas Morrison